Bushwacker Fender Flares | Distinct Styling
Redwater Dodge can customize your vehicle with a variety of parts. Some enhance the function while others add a style element. Bushwacker fender flares are the ultimate custom option, as they protect the body of your vehicle in almost any environment while adding a distinct look.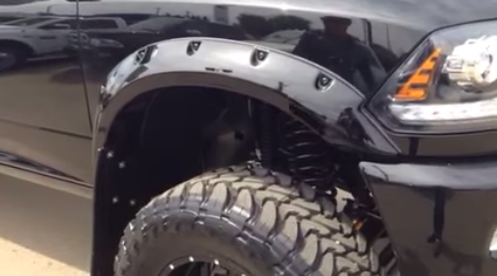 Bushwacker makes a long list of fender flares designed for different purposes. Choose the Pocket Style® for your Jeep Wrangler with the ruggedness from the bolted-on look. They can withstand harsh terrain and won't slow you down. Cut-Out™ fender flares provide superior performance for your off-road vehicle. If style is your focus, Street Flares™ have the sleek look that is perfect for a sports truck.
The one thing you can count on regardless of which style you choose, you enjoy a limited lifetime warranty for your Bushwacker fender flares. Enjoy a set of stylish flares that are protected against cracking and other defects. Every style features 100% UV protection with an OE matte black finish. They are ready to be painted in a colour that matches your SUV or truck. Heavy-duty hardware holds these flares in place no matter where you are going.
To find out about adding Bushwacker fender flares to your vehicle, visit Redwater Dodge. Our knowledgeable staff can help you decide which style works best for your vehicle. Come in and let us assist you in creating a distinct vehicle that you will enjoy.
Sales Team
Redwater Dodge