2014 Dodge Charger SRT | Muscular Build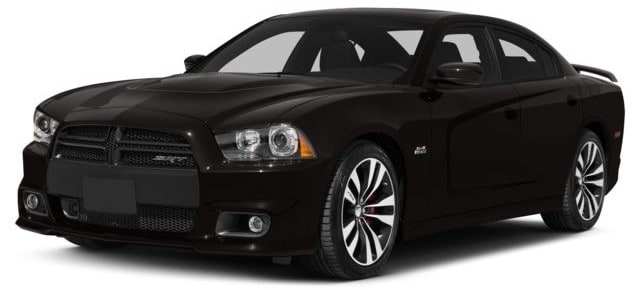 Everything about the 2014 Dodge Charger SRT is based on its iconic heritage with the muscle car. It has the power to get your heart racing, along with the exterior designs and interior comfort.
Inside the 2014 Dodge Charger SRT features sleek lines and modern elements. It comes with the Uconnect system, premium materials, a modern sound system, bright accents, plenty of space and numerous available options. The Charger features classic styling along with some modern elements to create a truly stunning look. It comes with a powerful stance defined by a sloped hood, rear spoiler, racetrack taillights, and aggressive front end. The tapered rear end, chrome accents and pearly colours add a touch of sophistication to this modern sports car.
Rumbling is what you will hear from the 2014 Dodge Charger SRT. Its masculine purr is thanks to the impressive HEMI engine; its driving experience is because of its independent front and five-link rear suspension.
2014 Engine:
6.4L V8 SRT HEMI with MDS and 5-speed automatic : 470 horsepower with 470 lb-ft of torque
At Redwater Dodge we love the heritage our vehicles have. The 2014 Dodge Charger SRT is one of these impressive machines. With the SRT, you are getting more powertrain and bold styling to represent its capability.
Sales Team
Redwater Dodge